Stained glass window repair and restoration is a specialized service provided by our studio. We can do simple repairs or total restorations on old distorted, broken, or otherwise distressed stained glass windows and panels. Using new lead came and solder the repair or restoration process always focuses on preserving the original design and colors of the original glass.

All of the stained glass panels on this page are between 20 and 80 year old pieces and have been repaired or totally restored.

Browse Photos »»

This window is one of a pair in entry doors to a church. It had several broken panels and matching color and glass were essential to restoring the set.

---
FIRST CONGREGATIONAL CHURCH
"Saving History" - Stained Glass Restoration
Stained glass artist Bob Zakas and Alayna Kyle were commissioned by developer Ken Crisp to totally restore all the stained glass in the First Congregational Church in Chattanooga. The Lyndhurst Foundation along with the River City Company and Cornerstones provided financing for the project. The church located at the corner of M.L. King Boulevard and Lindsay Street in Chattanooga, Tennessee is under way to apply for a National Historic Register designation.
First Congregational Church is one of Chattanooga's oldest black churches. As part of its history, services began in the church in the early 1900s. There are approximately 6,500 individual pieces of glass in the windows. Mr. Zakas and partner Alayna Kyle cleaned and refit the panes of glass into original wood window frames. Read More»»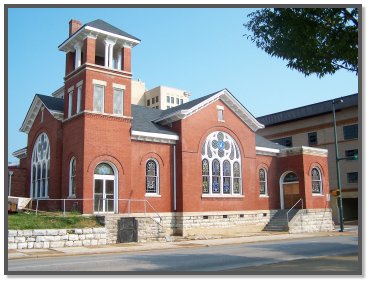 A Job With Meaning»»
(Chattanooga Times Free Press: Sept. 23, 2007)

Old Church Receives Face-Lift»»
(Chattanooga Times Free Press: May 19, 2008)


"Saving History" - Stained Glass Window Restoration»»
(See our Restoration Process on 'You Tube')